Course Description
This course focuses on the development of leadership skills used in managing a successful business. Students will analyse the role of a leader in business, with a focus on decision making, management of group dynamics, workplace stress and conflict, motivation of employees, and planning. Effective business communication skills, ethics, and social responsibility are also emphasized.
Prerequisite
None
Sample Activity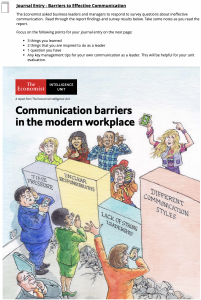 Teacher
Ms Shen (The Bishop Strachan School)

Course Delivery
This course is run on Blackboard. Content is delivered through a combination of text, slide presentations and videos. There are opportunities for collaboration through text and video discussions, and group work.
Synchronous sessions will be used to introduce units, provide opportunities for explanations for/questions about unit evaluations and as needed during the course.
Assessment and Evaluation
There is a mix of various assessment tools used in this course, including quizzes, journals, wiki posts, discussion board entries, written reports and video presentations. The final culminating task asks students to consider a real-life case and apply their understanding of the course content to provide a set of recommendations to the business leader.